Outer World - Who Does the Music Love? LP PRE-ORDER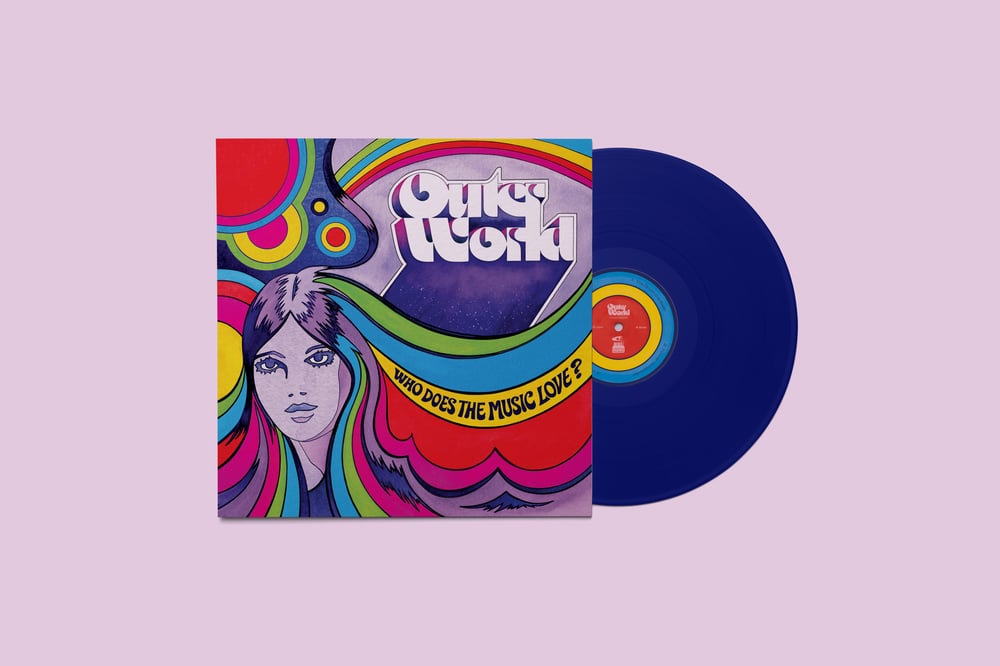 Outer World - Who Does the Music Love? LP (HHBTM/USA)
This is PRE-ORDER. The release date: March 22nd, 2024. I will have exact numbers soon, but the blue vinyl will be more rare than the black.
Outer World is my current band. RIYL: Dahlia Seed, Ringfinger, Positive No, Ett Eko, Richmond, Virginia, retro-future, crate digger delights, French freakbeats, psychedelic garage-pop, Bond spy themes, space-age post-punk, '80s NYC disco punk, and sensual subtexts.
Who wouldn't want a break from Planet Earth after the past few years we've all had? Kenneth Close and Tracy Wilson have built themselves a new universe in the form of a home recording studio to transport themselves a galaxy away from the grief, fear, and worry the pandemic brought. The duo dubbed themselves Outer World and they blasted off into an entirely new to them corner of the musical universe to create their debut album Who Does the Music Love?
Covid moved into Wilson's lungs in February of 2020 and overstayed its welcome. It stole what she describes as her "big voice." For those familiar with her previous bands Dahlia Seed or Positive No, her trademark, no-need-for-a-microphone belt, was gone for good. The couple grieved for the literal loss of a primary instrument used in their art, but were determined to find a way back to making music again. Together, they began exploring the world of songwriting using a computer, samples, synths, and plug-ins. The goal was to create a new musical landscape where Tracy could find a new voice that wasn't as focused on power, but still potent nonetheless. The next two years were spent wrestling with Long Covid and finding ways to work around each new frustrating, lingering side effect.
Close and Wilson had spent the previous decade creating technicolor post-punk pop as the band Positive No. Their final cinematic album Kyanite dabbled with electronic sounds and hints that had they remained active through the past three years, their indie rock genre banner would have been torn down to make way for something more free and adventurous. Their current home studio sits in the center of what they lovingly call the "record womb," a computer surrounded by some 7,000 records and all their instruments and recording gear. Tucked into the layers of Who Does the Music Love? is a century of recorded music from all over the world. We find the dynamic swing of a Swedish soul jazz singer on top of Bond-worthy spy themes. We hear the sensuality of France in the 60s, when in swaggers a wink to 90s house music. There is a tug-of-war between 70s angular post-punk and experimental Brazilian psych. Cosmic Jazz, noisecore, freakbeat breaks, space-age bachelor pad Moog mayhem, and the treatment of the iconic retro-future group Broadcast as a genre and chosen family. This diverse blend represents just some of Outer World's psychedelic garage-pop points of inspiration. It is music to make any crate digger's heart skip a beat.
A six-song demo in the summer of 2022 was reshaped at the Sweeping Promises home studio in Lawrence, Kansas, with the additional help of Keith Renna, fellow member of Positive No with a proven chemistry to Close and Wilson, on drums. A seventh song was written that fall, and then the entire body of work was handed over to Maryam Qudus (Spacemoth) for her artful mixing. Outer World's long EP had metamorphosed from song sketches used for vocal rehab and a pandemic escape hatch into a reverb-drenched, hallucinogenic fever dream. Thematically the pandemic is never given the spotlight; it was merely the dirt from which these flowers bloomed: Lotteries ("Loteria"), an artist's complicated relationship with making art ("Outer World"), notes to self written on hotel stationary ("Have"), French proverbs ("Forms of Knowing"), Chiaroscuro contrasts ("Flower Gunpowder"), Keith Haring's personal musings ("The Message is the Message"), and the power dynamics in relationships ("The Drum, The Beat," featuring Lira Mondal of Sweeping Promises on backing vocals). Chicago illustrator Sara Gossett carries us out of this world and into a colorful cosmic universe where joy radiates out in all directions.
It would be tempting to call Outer World a pandemic project or assume their debut record carries the emotional weight of terrible times, but you would be wrong on both counts. Outer World is a band nearly 15 years in the making and Who Does the Music Love? is a blissful rainbow wrapped up in a giant silver-lining bow. Problem-solving around a tragedy has never sounded so curiously enthralling.